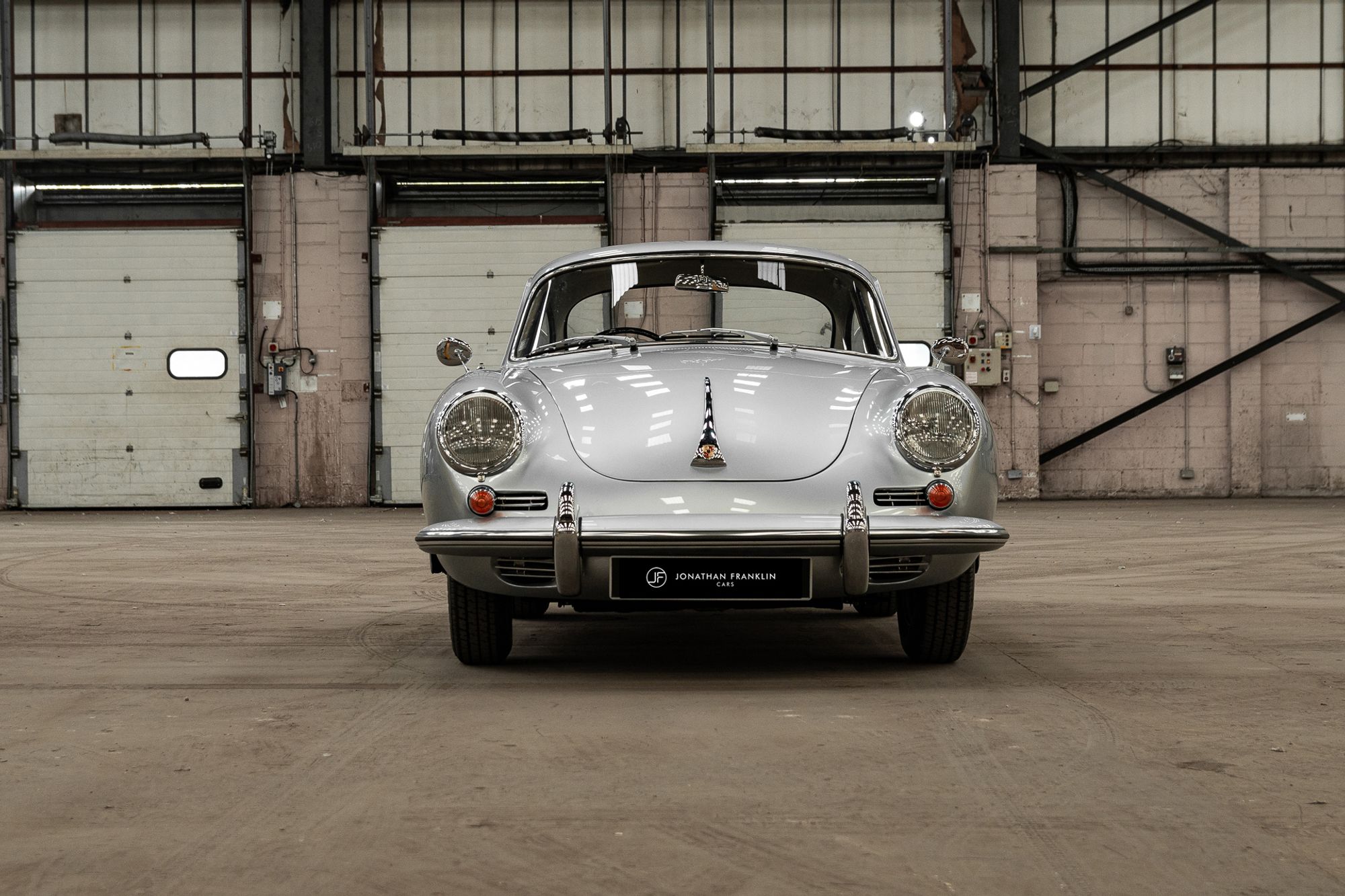 Specification
Year
1963
Colour
Silver
Price
Sold
Description
The 356 model is acknowledged as Porsche's first production car and was a lightweight and nimble handling rear-engine, rear-wheel-drive, two-door sports car available in hardtop, coupé, and open configurations. Design innovations continued during the years of manufacture, contributing to its motorsports success and popularity.

The model was created by Ferdinand "Ferry" Porsche (son of Dr. Ing. Ferdinand Porsche, founder of the company), based on an original design by Porsche employee Erwin Komenda, its mechanicals (including engine, suspension, and chassis) were derived from the Volkswagen Beetle.

Porsche re-engineered and refined the car with a focus on performance. By the late '50s many fewer parts were shared between Volkswagen and Porsche and increasing success with its racing and road cars brought Porsche orders for over 10, 000 units in 1964, and by the time 356 production ended in 1965 approximately 76, 000 had been produced. Today, the Porsche 356 is a highly regarded collector's car with the Super 90 and 'S' engines amongst the most desirable, partially due to the type's much enjoyed success in rallying: the 24 hours of Le Mans, the 1000 km Buenos Aires, the Mille Miglia, the Targa Florio, the Carrera Panamericana, as well as many other important motorsport events.

This Porsche 356B Coupe is an original UK, right-hand drive T-6 'S' that was supplied new by AFN in Chiswick, London. It was delivered on 17th April 1962 and was finished in silver with a blue leatherette interior. In addition, it was registered with the number plate 65 EUC.

Discovered by our vendor a couple of years ago, he immediately realised he had found something very special indeed. Surprisingly, all the panels, engine, and gearbox were found to be original and he quickly set about a full ground-up restoration. The shell was totally stripped and painted in its original colour and the interior re-trimmed in blue leatherette. Emphasis was placed on finishing the car to original specification during the rebuild. The original engine was totally rebuilt and has just been tuned and set up by leading marque expert Anthony Seddon at Oulton Workshop. The original gearbox was rebuilt and almost all mechanical components were either rebuilt, replaced and restored. Having just been completed, this stunning and incredibly rare 356 'S' is ready for the road again.

One of the most impressive aspects of this vehicle is its incredible history file. The service history dates back from 1962 and a full ownership record details every single owner. This includes letters between private owners and Dick Lovett, who sold the car twice and copies of the original hand written sale ledgers confirm this.
Supplied with an original 356 radio and speakers, Porsche Certificate of Authenticity confirming matching numbers, bills and receipts and pictures and details of the restoration just completed, it makes for fascinating reading.

This extremely rare 356 B 'S' Coupé is a very collectable car indeed and is one of just a handful that remain in the UK today.