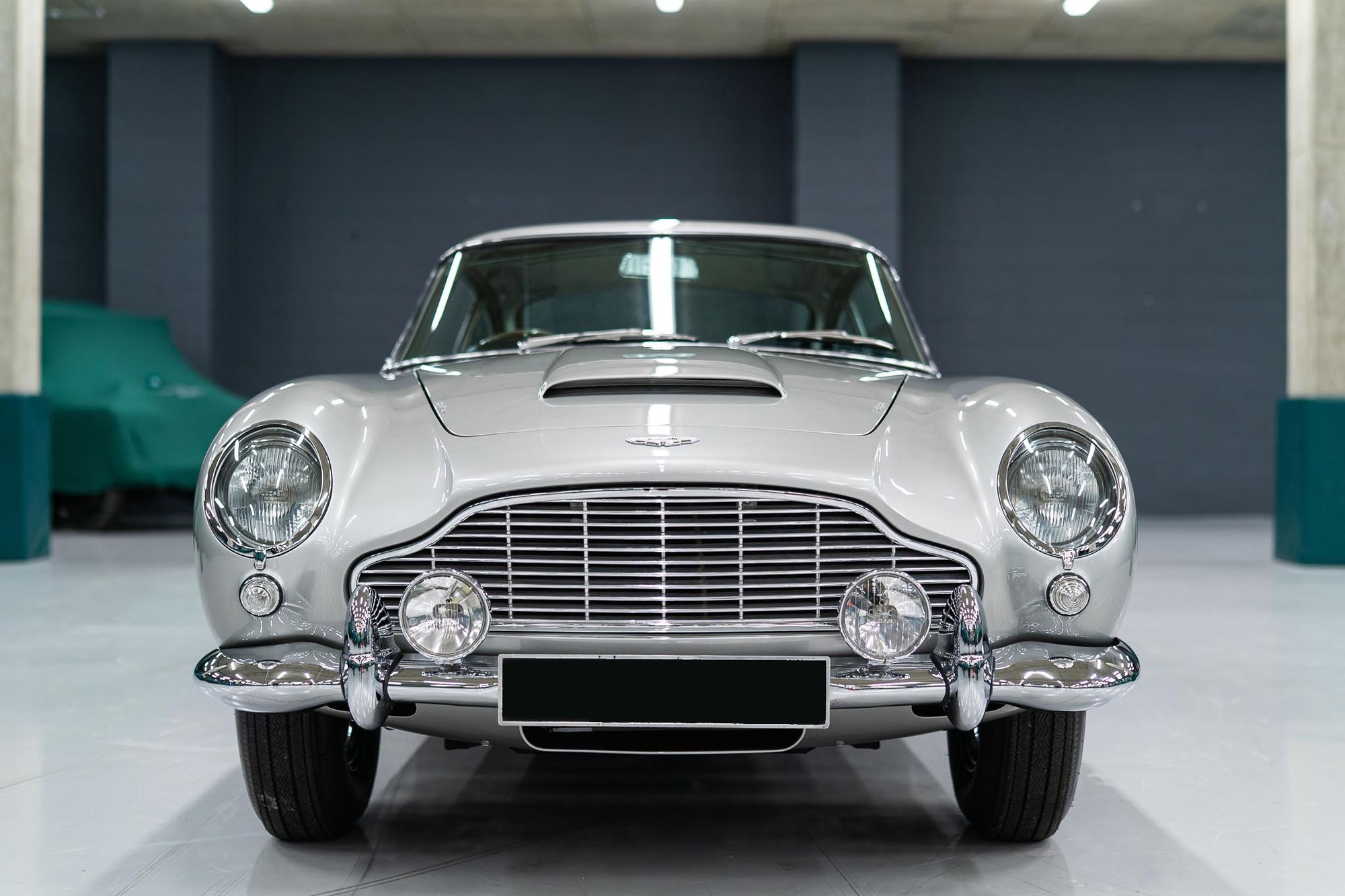 Specification
Year
1964
Colour
Silver
Price
Sold
Description
1964 Aston Martin DB5 Sports Saloon
Chassis number '1436/R' was sold new by supplying dealership Callanders on 21st March 1964. The original copy guarantee form records chrome road wheels, heated rear screen, Motorola 818 radio, power operated aerial, two Marchal fog lamps, and two wing mirrors as items of additional equipment, while the car's original colour scheme was Aegean Blue with White Gold Connolly leather interior trim.

'1436/R' has had six owners from new. The comprehensive history file records a bare-metal re-spray completed in May 1985 for the sum of £1,840. At this point in time, '1436/R' was painted a light Mink Brown. There are numerous bills on file for the period 1978–1989 from Aston Service Dorset and many other specialists, while a further bill on file dated 30th June 1989 from Village Industries Ltd of Stafford is for substantial mechanical repairs totalling £1,688.51.

Lt Cdr Parker owned the Aston for some 14 years, using it as a daily driver until 7th September 1991 when it was sold to a Mr Brian Hall-Tomkin of Bideford, Devon for £31,500. There is a letter on file dated 22nd July 1991 to Bob Fountain of Aston Workshop from Mr Hall-Tomkin asking him to find a DB5.

The car next changed hands on 25th July 1993, passing to Mr G Kelsey of Shortlands, South London for in the region of £23,000. There are many bills on file dating from Mr Kelsey's ownership from marque specialists Pugsley & Lewis for servicing and repairs to the car for the period 1995 to 2013. There are also some 25 MoTs in the history file dating from 1981 (at 60,352 miles) up to the present day at 103.480. The car was little used during Mr Kelsey's ownership, and in the last 24 years has only covered some 6,700 miles. The numerous invoices on file substantiate the mileage records during the earlier period.

The DB5 was restored in 2016. Completed in 2018, '1436/R' is now resplendent in the classic combination of Silver Birch paintwork with a black leather interior. Undertaken by marque specialists Prestige Paintworks of Golden Cross, East Sussex, the restoration of the body and paintwork took in excess of 1,200 hours and cost £60,000 excluding the refurbishment of the chrome (c.£8,500). On completion of the bodywork, the car was returned to Pugsley & Lewis, who carried out a comprehensive mechanical restoration and interior refresh costing c.£136,000 (bill on file).

'1436/R' is only offered for sale to make way for a new addition. Absolutely immaculate,' this beautiful Aston Martin DB5 is 'on the button' and ready to delight its fortunate next custodian.