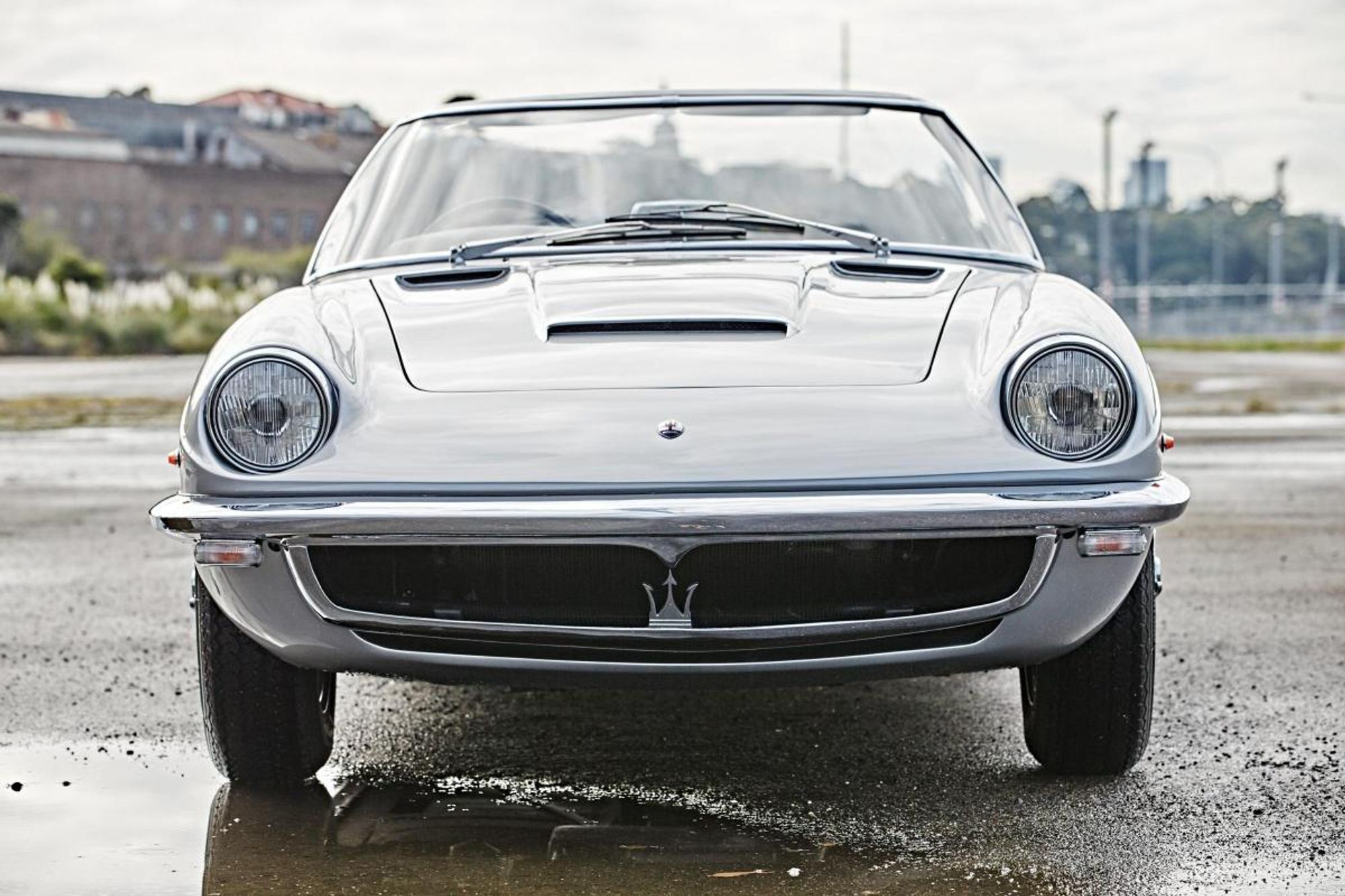 Specification
Year
1964
Colour
Silver
Price
SOLD
Description
Maserati Mistral Spyder 3.7 RHD
The 1964 Earls Court Motor Show car
Sold new to screen icon Diana Dors
Incredibly rare right-hand-drive example; one of just 14 built
Matching-numbers engine; presented in its original colours
Complete with Maserati Classiche documentation
255 bhp, 3,694 cc DOHC inline six-cylinder engine, five-speed ZF manual transmission, independent front suspension with coil springs, rigid rear axle with semi-elliptical leaf springs, and four-wheel disc brakes. Wheelbase: 2,400 mm
In 1964, the Maserati range was at its most diverse, with the Mistral and Quattroporte joining the Sebring, 3500 GT, and 3500 GT Spyder. Maserati was building upon the success of the 3500 GT and Sebring when it commissioned Pietro Frua to design a new body to be placed upon an updated Tipo 109 chassis. The new two-seat coupé was named "Mistral", after the strong winds blowing from the Mediterranean coast in the south of France, at the suggestion of Colonel John Simone, the French Maserati importer.
The Mistral name was intended to represent speed, and the car certainly lived up to its promise. This was to be Maserati's last car powered by its famed and well-proven straight-six engine, which had descended from the company's 350S sports racing cars of the 1950s. A Salisbury rear axle handled the power from a ZF five-speed manual gearbox—a traditional tried-and-tested Maserati-type drivetrain.
Whilst the Mistral was similar in length to its Sebring predecessor, it had a much more lithe and rounded profile, with a low beltline and curved glass. The relatively long bonnet was accented with a small air scoop, slim bumper, and a split air intake. Typical of Italian sports car construction at the time, the body was constructed in steel, whilst the doors, bonnet, and boot lid were fashioned out of aluminium. When unveiled, it was considered by many to be one of Frua's finest designs.
The new Mistral, first unveiled at the Turin Motor Show in November 1963, was an instant success, and a steady flow of orders ensured that the car remained in production until 1970, with only slight updates and an increase in the engine's displacement from 3.5 to 3.7 litres and then, finally, to 4.0 litres.
The Spyder was a pure two-seater with an excellent driving position. Even in today's terms, its top speed of 160 mph and a 0–60 time of just 6.2 seconds ensure that it is still capable of spirited driving. In total, 828 coupés were built and just 120 spyders in the seven-year production run. Of those 120 spyders, only 14 were produced in right-hand-drive configuration, with only 2 being built in 1964, making them exceedingly rare today.
This Mistral Spyder is one such right-hand-drive example, fitted with a 3.7-litre engine which has been mated to a ZF five-speed manual gearbox. The car was built in October 1964 and delivered straight to London for the November 1964 Earls Court Motor Show, as can be seen from the original factory documentation which accompanies this car. As noted on the build sheets, the car was to be finished to the highest standards, given its appearance at Earls Court.
The Mistral was sold directly from the Motor Show stand to its first owner, Diana Dors, the English screen icon frequently known as the "English Marilyn Monroe". She is said to have fallen in love with the car after seeing it first-hand at the motor show. Dors, one of the earliest English stars to court the press, and gain notoriety in the process, was famously the youngest person to own a Rolls-Royce, despite the fact that she was not even old enough to drive at the time. The rare and highly desirable Mistral undoubtedly fit in with the movie star's high-profile lifestyle.
Following Diana Dors' ownership, this Mistral found its way into the hands of an Australian living in London and was subsequently exported Down Under in 1976. In 1983, the car was then sold to its next owner, Philip Larson, who kept it until 2004, when it was sold to Clive Smith, a well-known Australian collector of Ferraris and other Italian cars. Prior to Smith's purchase in 2004, the car was fully restored, and it remains in excellent restored condition today. This Mistral Spyder has also benefitted from a full engine rebuild by a marque specialist (receipts for which accompany the car) and has recently had a new set of correct Borrani chrome wire wheels fitted. It comes complete with a set of original tools and a jack, as well as its Maserati Classiche documentation.
This Mistral Spyder with celebrity ownership is presented in its original combination of Argento Auteuil over a Black Connolly interior, exactly as it was when first displayed at the Earls Court Motor Show. It has enjoyed a pampered life in the dry Australian climate and presents in excellent condition following a comprehensive restoration. As it has had a recent service, its next owner is able to immediately enjoy this incredibly rare car, one from a time when Maserati was at the top of its game.